Dog was a Dachsund called Lump whom artist Picasso captured in several drawings.
Picasso tended to use a light touch and simple lines when depicting animals by themselves and Lump was an obvious choice as a subject because of how the artist loved this animal. The dog featured in several paintings and sketches.
Picasso was a true animal lover. At different times in his life he held owls, several dogs and a goat as pets. There was also a flock of doves plus other creatures with more fleeting appearances in his life.
There are artistic representations of many animals encountered by Picasso during his life throughout this website. He would typically choose minimalist, abstract sketches to depict them but there are also countless other sculptures and paintings from across his extensive career.
La Californie was the significant moment in the artist's life that he built his relationships with both Lump and also Jacqueline. It was in this villa in Cannes that he was to truly feel comfortable and contented.
When Lump first arrived at the villa he would excitedly sniff and search around every room in this large home. On his first day here he would even be captured on a ceramic artwork by an enthusiastic Picasso, eager to see him settle into this new location.
Photographer David Douglas Duncan, whose photo is included further down this page, was the owner of Lump and he was to allow Pablo to take care of it after visiting the artist in his Cannes mansion, La Californie, April 1957.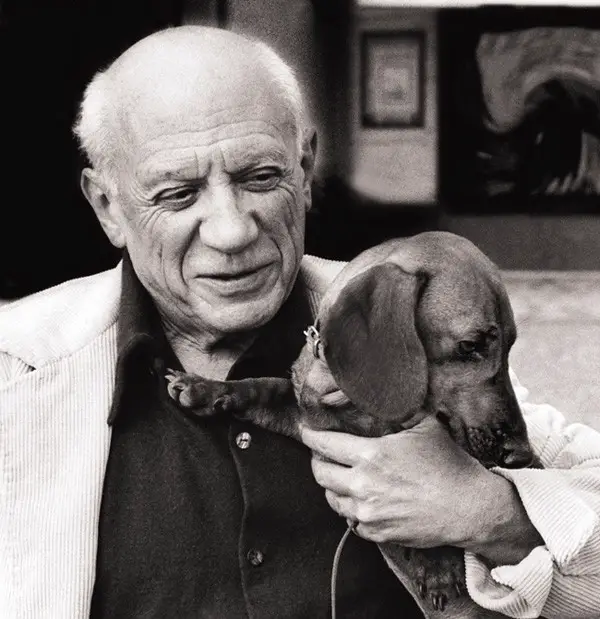 << Picasso and Lump Photography by David Douglas Duncan
As a reward for bringing this charming animal into his life, Picasso awarded Duncan this ceramic plate to remember the dog that he had so generously given the artist. Pablo himself was generous frequently, but normally in a spontaneous capacity, such was his artistic makeup.
Simple sketches from Pablo Picasso are amongst his most popular art works, and many of these drawings are reproduced in droves for all his fans around the world. Besides the Dog here, he also captured, Camels, Cats, Penguins and all manner of other animals.
Picasso was a multi talented artist who excelled in many different mediums, beyond just the pencil drawings found here. Few artists would have the confidence to capture an animal with so few strokes of the pencil.
This drawing is available to buy as framed and unframed art prints, posters, stretched canvases and limited edition prints to match whichever medium best suits your own home.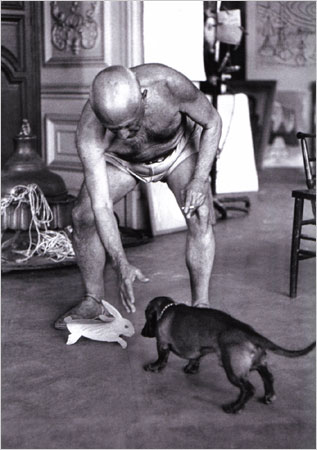 << David Douglas Duncan/From "Picasso and Lump: A Dachshund's Odyssey" (Bulfinch Press)
The photograph here shows the artist having fun with Lump and is one of a series of photographs released in this recent publication that offers an interesting insight into the personal life of Pablo.
Pencil sketches feel supremely contemporary and suit that style of home perfectly, with many people today designing interiors that have just a few carefully chosen items, with plenty of space around the room to help everything breathe.
The photographs in this page take you through to where you can buy a print of the Dog sketch for yourself, though the Art.com gallery features many more of Picasso's work to suit all tastes.